---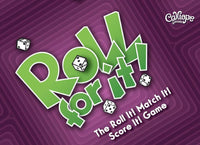 Roll For It!
Roll For It! is everything you want in a game. It's fun, it's easy, and it's fast!  The rules are simple. Roll your dice, match a card, and score some points! Be careful, though—other players may challenge you for the card you're after. The first player to collect 40 points wins! Roll For It! is the perfect travel game. Play up to four people with either the red or purple box, or combine the two to entertain up to eight players.
Recommended by Mensa!
ages: 8+
players: 2-8
time: 20 min
Long Ago,
before Ares betrayed Calliope and imprisoned her, the Pegasus—strong and witty but full of love and devotion—had narrowly avoided being enslaved by the war god himself to be used as a flying warhorse in battle. When the Pegasus learned of Calliope's capture, he knew that he could never let someone so important sit for all eternity in a cage. Realizing his superior strength, but looking to avoid violence, he cleverly concocted a game of dice and cards that balanced wits and luck. He confronted the muse's guards and challenged them to Roll For It! The prize at stake? The magical key that would open Calliope's cell. Using all of his strategy, skill, and just a bit of luck, the Pegasus completed the 15-pointer he needed to win the key—and with it, Calliope's freedom as well!