---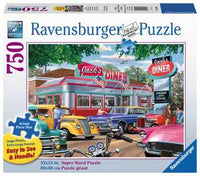 Ravensburger's got the perfect puzzle for every puzzler!
With a wide range of images and designs to choose from, including favorite characters, adorable animals, fantasy images, landscapes, monuments, and more, we've got something for everyone. Assemble 750 high-quality pieces to throw yourself back to the good ol' days outside Jack's diner!. Among the most popular piece counts for the avid puzzler, Ravensburger's 750 piece puzzles are designed to challenge and comfort by creating a difficult but more satisfying-than-frustrating experience.
Puzzling is more than just fun! Puzzling develops logical thinking and problem-solving skills, memory, focus, and concentration, and builds confidence. Plus, it's a great way to unplug, relax, and destress.
Ravensburger puzzles are designed to be a positive experience. Following with tradition, our puzzle dies are completely hand made from the grid design to the bending and forming of our steel tools; creating a perfect interlocking fit with no tearing or dust. No two pieces are ever the same shape! Extra-thick cardboard pieces mean your puzzle will last for years and our fine, linen-structured paper eliminates glare so you can really see the details. Ravensburger, bringing families together since 1891.