---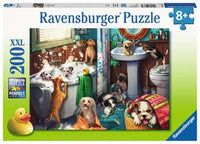 Ravensburger has the perfect puzzle for your child!
Ravensburger has something for every young puzzler with a wide range of characters, images, and designs to choose from. Assemble the high-quality pieces to reveal trouble making pups making a mess during bath time. With strategically chosen images and sturdy pieces designed to challenge puzzlers ages eight and up; Ravensburger's 200-piece puzzles are a great way to sneak some unplugged play into your child's day.
Puzzling is the perfect way to spend time together, building relationships and making memories that last a lifetime. Puzzling also develops fine-motor skills, hand-eye coordination, memory, focus, and concentration skills. Puzzles build confidence one piece at a time.
Ravensburger puzzles are designed to be a positive experience. Following with tradition, our puzzle dies are completely hand made from the grid design to the bending and forming of our steel tools; creating a perfect interlocking fit with no tearing or dust. No two pieces are ever the same shape! Extra-thick cardboard pieces mean your puzzle will last for years and our fine, linen-structured paper eliminates glare so you can really see the details. Ravensburger, bringing families together since 1891.