---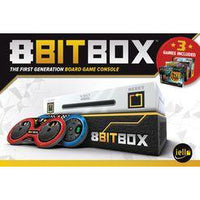 Inspired by retrogaming, 8Bit Box is a board game that contains everything to recreate the sensations we all had playing classic games from the 80s. With the controllers in your hands, live a new gaming experience to share with your friends. 
CONTENT:
Pixoïd:
One player plays as Pixoïd, the little energy cube. All others are bugs trying to catch him! As Pixoïd, gather bonuses to score the most points and survive as long as possible!
Outspeed:
Become the best pilot of all times! Keep a cool head, and manage your fuel to be the first to cross the finishing line. And if that's not enough, simply hinder your opponents!
Stadium:
Divide yourselves into two teams and challenge yourselves to trials to win the best medals!